Projects by M.E. Ledbetter
Call 281-573-3380 or Jim at 281-639-7987 to order see our Contact Page.
Success Series One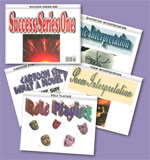 Success Series One includes forty project folders that can be used in a variety of ways to ensure that your students grow in their knowledge of literary devices, writing, grammar, and vocabulary. The folders can be used as exercises for whole-class instruction, partner work, or individual assignments. The Series incorporates various forms of media (newspaper articles, magazines, etc.) to motivate students and introduce them to real-life application of English / language arts skills.
Success Series Two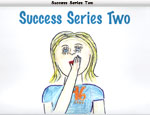 Success Series Two
contains thirty-six folders for use in grades 6 - 12.  Based on the unique concept that both elementary and secondary students should be capable of producing single as well as multi-paragraph essays, the series uses children's art as a stimulus on the front covers and provides quality teacher-written samples on both inside pages as well as on the back covers.  Since no grade levels are mentioned and the topics are appropriate for all students, all teachers can use the single-paragraph whether as a Quick Write or an entire lesson.  The multi-paragraph "Challenge" sections should be required for secondary students whereas elementary writers can use these pieces as extension exercises.  Students benefit from whole-class, partner, or individual instruction that can introduce, review, or serve as tests for writing in all modes, application of literary terms, and recognition of grammatical devices.
Project Packet Cards
Each of the packets come with detailed instructions on their various uses as well as the ready-to-use cards themselves.
Literature / Reading Terms Application Cards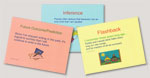 Includes teacher model cards and instructions. These cards serve as models for teachers' use to guide their students in writing their own cards applying every literary term to their lives. They prove to students that each term is relevant to their real lives.
Literature / Reading Cards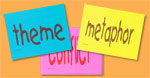 Includes test cards and instructions. Each card contains one literature term that can be used to "test" students on various aspects of a short story, novel chapter, etc. Several can be handed out at once. Instructions show a myriad of uses for these colorful "manipulatives."
Grammar Cards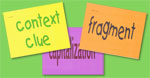 Includes test cards and instructions. Each card contains a grammar term (eg. appositive, subject/verb agreement, etc.) that should be handed to students in order for them to analyze a piece through grammatical "eyes" as well as through literary devices. These cards are excellent for review as well as for introducing grammatical concepts through mini-lessons.