Books and Publications by M.E. Ledbetter
Call 281-573-3380 or Jim at 281-639-7987 to order see our Contact Page.
The Writing Teacher's Activity-a-Day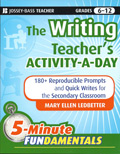 The Writing Teacher's Activity-a-Day offers 180+ ready-to-use, reproducible activities that will enhance writing skills of all secondary students.  Written for teachers in grades 6-12, the book's classroom-tested activities are designed so that teachers aren't required to do any extra grading.  Partnering techniques along with new oral assessments and peer-editing strategies not only reduce teacher paper load but provide immediate feedback for students.  The book is filled with writing prompts and sample passages written in student-friendly language that connect abstract literary and grammatical concepts to students' own lives.  In addition, the engaging examples serve as models to encourage students to create their own Quick Writes or essays that will serve as an entire lesson.
You Say - I Say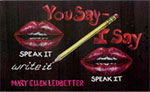 Includes motivational quick writes in a game format. If you want fun listening, speaking, and writing warm-ups for your class, this is the book for you. It is formatted as a "game" that students guess about various aspects of their partner and then vice versa. Students are taught to reason, support, and have fun doing it!
All About Me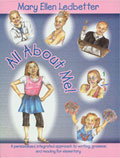 This one-of-a-kind 600-page comprehensive resource gives K-6 students dozens of teacher and student writing samples to analyze and use as models for their own work. Higher-level thinking questions involving structure, voice, and mechanics are included so that students can analyze the components of quality writing.
Language Arts: Something For Everyday

These teacher-written models integrate reading, writing, and grammar skills for daily use and can be used as warm-ups, an introduction or review of skills, partner work, or an entire lesson. (Second Printing)
Complete with six comprehensive tests.
For advanced 8th middle school students to high school students.
Writing Portfolio Activities Kit

This 357-page resource of writing, literature, grammar, and vocabulary activities is designed to be used with any material, unit, or mini-lesson.  The writing activities include teacher and student writing models as well as student-interactive rubrics that serve as guidelines at each step in the writing process to ensure that all the necessary components are present in each piece.  Persuasive, comparison / contrast, narrative, descriptive, how-to (process), and literary analysis are included, accompanied by handy "teacher pages" with suggestions ranging from grading assignments to involving students in the evaluation process.  This book is a time-saving, "must-have" for all English / language arts teachers.
English Workshop Activities

One-hundred-eighty student-written excerpts are followed by two writing questions, two grammar questions, and two reading questions. These daily passages are designed to improve scores on state-mandated tests.