Intermediate Expository Essays
Your Journey Starts Here...
For Grades 6-12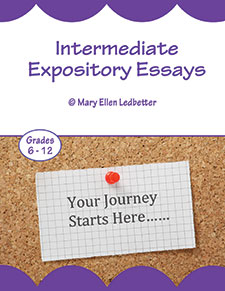 Tired of searching for essays that will appeal to your students instead of the "same old, same old" ones found in many textbooks? Now the work has been done for you!
This packet of expository essays is filled with original, unique exemplary writings that not only can serve as models for your students but as motivational exercises as well.
These works take students step-by-step through the necessary stages with each essay marked for structure (hook, thesis, topic sentences, supports, re-hook, and restatement of the thesis) and elaboration (which research indicates is the number-one problem with the essays of student writers.)
Besides these elements, each piece includes many examples of various methods used to create voice, which is the difference between dull writing and exciting, interesting works. When students learn these strategies, they immediately see the improvement in their papers, making the process less threatening and more attainable.
Included also are the steps to achieving exemplary essays, sample lesson plans, student-interactive structure rubrics, writing in stages, and more. You will not be disappointed.
Intermediate Expository Essays
Details
Subjects Covered
English Language Arts,
Writing Expository,
Writing Essays
Grade Levels
Grades 6th - 12th, Homeschool
Resource Type
Activities, Handouts
File Type
PDF Document
Total Pages
Price

$25.00



You can order this product on TeachersPayTeachers!